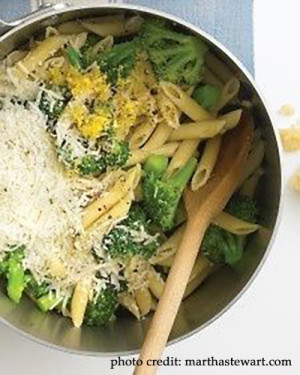 The name for penne pasta was originally derived from the word "penna" meaning "feather" or "quill".
One billion pounds of pasta is about 212,595 miles of 16-ounce packages of spaghetti stacked end-to-end — enough to circle the earth's equator nearly nine times. To cook one billion pounds of pasta, you would need 2,021,452,000 gallons of water – enough to fill nearly 75,000 Olympic-size swimming pools!
Thomas Jefferson brought a pasta making machine back with him in 1789, when he returned to America after serving as ambassador to France. It was not until 1848 that pasta was first produced commercially in the U.S., and not until the late 19th century that it became popular.
Cooked al dente (al-DEN-tay) literally means "to the tooth," which is how to test pasta to see if it is properly cooked. The pasta should be a bit firm, offering some resistance to the tooth, but tender.
Easy Penne Pasta with Broccoli
Ingredients:
1/3 cup Olive oil
2 cloves garlic, minced
1/2 head broccoli, chopped into bite-sized pieces
1 box penne pasta
Parmesan cheese, grated
1/4 teaspoon red pepper flakes
Salt and pepper, to taste
Directions:
Bring water to a boil, and cook penne until just under al dente.
Add in broccoli florets, and cook until penne is al dente.
Drain excess water, return to the pot.
Toss with Olive oil, garlic, salt and pepper, and red pepper flakes.
Grate Parmesan over dish before serving, and serve with Italian bread.